What is the Society we want to be in 2040 and how do we get there?
After three years of disruption and unpredictable devastation, the time came for us to explore and develop a holistic vision and roadmap of what Australia could be in 2040 – a resilient, fair and prosperous society that embraces the needs of both its peoples and their lands.
Bringing together a broad-based coalition of influential thought leaders in a cross-sectoral collaborative partnership, our inaugural 'Creating Australia 2040 – Education & Employability' National Summit held on 4 August 2022 was the first of a series of events that explored the key issues that required questioning, re-imagining and progressing towards the Society we want to be.
This National Summit, chaired by ACoP President Klaus Veil and MC'd by ACoP Director Simon Hann, showcased our convening power and ability to galvanise thought leaders across professional landscapes to explore key questions and identify practical, inclusive, evidence-based approaches to address the education and employability challenges of the next two decades, with a view to develop an integrated 'Set of Principles' that embody our collective commitment and responsibility in delivering on the Australia 2040 vision.Here, we would like to share a recap of the Summit and invite your participation in ongoing discussions on these important issues.
Keynote: Professor Julianne Schultz AM FAHA
Renowned academic, editor and author Prof Julianne Schultz AM FAHA opened our National Summit by encouraging us to contemplate defining Australia's national identity for 2040 and beyond, suggesting that it will require our nation to consider its history, its shared experience and how we can learn from it. With migration waves over many years resulting in multiple layers of who and what Australia is, coupled with the COVID-19 pandemic, we have seen a rise of the 'expert' and a new respect for professionals. With that as catalyst, she reminded us that now is the opportunity to build on trust in experts.
Julianne spoke firmly about the need for professionals to demonstrate deep knowledge about the society they operate in, and our nation will require experts from all fields to come together and step up with a public voice, from their respective professional perspective to lead and model respective conversations. She concluded by inspiring us, as professionals and experts in our chosen field, to be bold and imaginative.
Keynote: Dr Simon Eassom – Chief Futurist
Our Chief Futurist, Dr Simon Eassom provided us with a plethora of thought-provoking insights and explored the challenges before the higher education sector. He outlined three seismic shifts:
Continuous technology changes will change the future of work resulting in no long-term career jobs
The need to align learning with labour market requirements to address the widening gap between higher education offerings and the workforce skills required
'100-year life'- where workers will need to reinvent and keep pace to remain employable
Simon spoke of the disruption facing education with a call for Australia to align and use Artificial Intelligence and gig data across the life/learning cycle. He suggested a useful 5- step roadmap to:
Create a long-term vision
Transform the student experience
Develop a national data strategy
Collaborate with industry to prepare for tomorrow's workforce
Create an agile ecosystem to lower costs and create equity
As an extension to that roadmap, he proposed that Universities need to develop a technology framework, with innovative curriculum and personalised courses that are aligned to careers and linked to certification for lifelong learning. He urged Universities to re-imagine their workforce and engage more with industry. Simon suggested that the learning environment must change to one that is on-demand, with micro and macro chunks of learning and assessments that are delivered when the learner is ready. He concluded with a thought-provoking idea that degrees may not be a relevant qualification in the future…
Industry Panel Session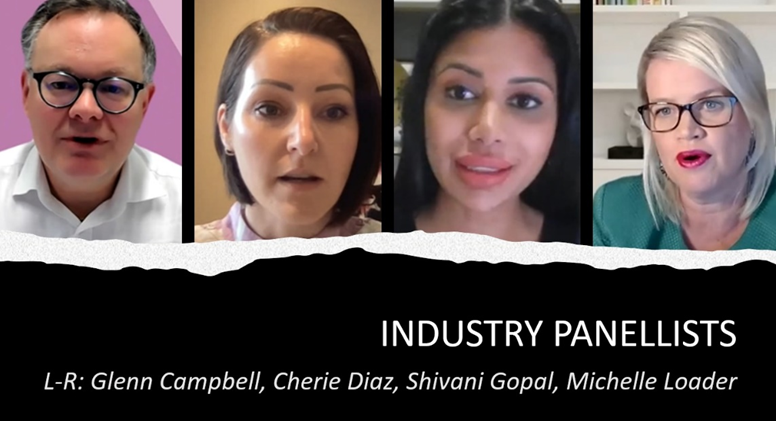 The Industry Panel, facilitated by Glenn Campbell, asked our panellists what Australia needed in Higher Education to ensure we have the professions with the knowledge and skills to take us to the Australia we want to be in 2040.
Michelle Loader suggested that the biggest enabler for that is to embrace what we don't yet know, to leverage technology, engage in personalised learning pathways, and Universities transforming into innovation hubs to commercialise. Cherie Diaz underscored the need for greater collaboration between Universities and Industry to enable growth, while Shivani Gopal spoke eloquently for inclusive workplaces, embracing gender, cultures, languages and future ways of thinking with a focus on experiential learning where core skills and lifelong learning build peripheral skills. Our final speaker, Dr Geethani Nair, who was unable to present on the day, offered themes to be raised on her behalf that pertained to professionals broadening their digital skills that will require constant adaption, suggesting that digital skills were pathways into jobs, not qualifications, with employer led digital skills standards.
As the discussion evolved, panellists agreed that there needed to be a shift in the way we think about 'talent', with professions needing to adjust their model to accommodate diversity and changing needs in career progression and development. The necessity to mentor and support entrants into the professions was also discussed as were critical issues pertaining to diversity, equity and inclusion. There was consensus that there is a great deal of fatigue among individuals and organisations in relation to diversity and inclusion, yet the level of 'talk' is not matched with the 'walk', with many organisations implementing diversity quotas yet not focussing on inclusion, thus affecting women, people of colour, people of minority backgrounds, with a potential to erode workplace psychological safety. The panel urged organisations to embrace inclusion and provide equity in order to achieve diversity.
Government funding was also discussed as a mechanism to enable tangible outcomes and finally the panellists concluded with the need to reimagine closing the gap between education and industry, with higher education and vocational education and training becoming a more integrated ecosystem, creating more touch points with professional associations.
Education Panel Session
The Education Panel, facilitated by Professor Sally Kift, started deliberations by asking the panellists what the future of work might look like for the professions and what some of the barriers and enablers to that future are.
Mark Mckenzie talked about the agility of skills that will constantly reshape so education systems need to be equally responsive to reskilling and upskilling, suggesting that Micro-Credentials will be part of the solution whereby professionals will need to be well-rounded and have skills diversity. Jenny Dodd added that agility also extended to forming partnerships to deliver the education and training needed from TAFEs, Universities and professional associations. Peter Chesworth reminded us that with the current skills shortages, Australia cannot rely on migration as we did in the past and that companies are willing to pay to obtain the best talent. Troy Williams spoke about school leavers having four to five careers over their lifetime and how Micro-Credentials will enable the upskilling and reskilling of the workforce from one occupation to another. However, he cautioned that Vendor Micro-Credentials will also need to be recognised by industry and professional associations to enable this to occur.
The panellists all agreed that there is an urgent need for lifelong learning that is underpinned by an initial qualification requiring a lifelong learning strategy. This will require every quartile of the workforce to be actively engaged as there is a growing demand from industry for skills, not qualifications alone. These skills need to be aligned with what industry needs, however, the panel highlighted the disconnect between industry needing skills and education focussing on qualifications.
Panellists proposed a national skills recognition framework, backed by government and industry funding that challenges the industrial award framework which is currently based on qualifications, not skills. Ultimately, as the panel concluded, industry needs to step in to provide funding and workplace experience as part of the solution to the skills shortage. This will require embedding principles of equity and a more integrated approach between industry and professional associations, government and education. In other words, a more agile and integrated education ecosystem is required to enable the workforce of the future.
Summary
The National Summit was commended by the participants as an inspiring success. These Q&As crystalise the thoughts and take-aways from our Summit.

Q: Partnerships between higher education providers and industry provide an important opportunity to improve work integrated learning; and options to count work experience as credit towards micro credentials. What scaffolding or incentives do we need to drive greater participation in industry – higher education partnerships?
Higher education and industry can work together to track learning outcomes. Universities could work with employers to design new performance measures to demonstrate return on investment – not only in terms of acquisition of required workforce skills, but also in terms of impact on employee retention and progression.
In return, industry can feed back into universities the learning outcomes, and opportunities for optimisation based on emergent environmental factors.
Ultimately, we need people to be able to make informed choices between acquiring intellective capabilities or job skills, based on their life stage, career aspirations and capacity to pay. People need learning opportunities mapped to career goals – that track their return on investment.
Industry-higher education partnerships are happening at all levels of the learner lifecycle; however, it isn't always easy to identify opportunities for partnerships. This is an area that micro-credentials and Work Integrated Learning (WIL), in particular, can help to shift.
Elements that will be important for success include:
Clarity of roles in such partnerships
Understanding of the education and assessment model
Consideration of how to include SMEs as such partnerships tend to be driven towards larger/national organisations for scalability
Openness to extending the lifecycle (e.g. career outcomes)

Q: How do the panel think the professions will react to the concept of adaptive assessment based on reaching competencies in a flexible time-frame?
Universities and other providers of further and higher education already offer a huge range of flexible, stackable credentials, from which students can pick and mix to create their unique portfolio of knowledge, skills and capabilities.
To be truly adaptive within commercial timeframes, industry, government and educational institutions could align on the set of capabilities that will drive us forward. An aligned framework would form a common language around what we are skilling, hiring, and developing for. The underpinning framework would adapt to changing conditions, and the skilling and talent development models can shift accordingly.
Maybe we are heading towards an internationally recognised accreditation framework, so that course credits can readily be transferred between programs, providers (including in different countries) and pathways (blending higher education and industry application). For example, using blockchain technology, learners could build a lifelong record of learning attainment, at a much more granular and useful level.
There is growing traction of portfolio and skills-based hiring practices, which reinforces that employers are increasingly recognising the importance of both technical competency and the ability to apply/transfer that knowledge and skill.
To do this authentically requires assessment practices that are real-life/authentic and also reinforce the importance of reflection in the development process.
Operationally, it will require education providers of all types to shift their delivery models with a greater focus on scaffolding the learning process, building flexibility into their content, case studies, and interaction points with peers, and importantly a personalised feedback loop.

Q: What would it take to shift costs (who pays) for reskilling/ micro-credentials from the 'student' to the employer?
We're already starting to see this change via employee focus on learning as a key part of their Employee Value Proposition.
Australia stands out amongst a minority group of nations where learning is seen as an expense not an investment in people. The EVP focus should help change that.
Also, the role of a 'lifelong learning account' that flows through life with the individual not the education provider or employee via tax rebates.
Revenue from research and innovation could provide a commercial return high enough to relieve universities from relying on undergraduate fees
Additionally, governments need to proactively support opening up the higher education sector to private and overseas investment in R&D, offering financial incentives to companies funding R&D. That way, universities gain access to private equity capital and participate in rich innovation ecosystems.
L&D spend data suggests that employers are already more likely to support spend on short-form learning.
The challenge (and opportunity) is to utilise the current traction in skilling/reskilling/micro-credentials to build trust with learners, industry, and employers so that the quality of outcomes from each learning interaction, understanding of likely "next steps", and ease of recognition for credit is as seamless as possible.

Q: What are some of the practical solutions that employers can make for inclusion of diversity?
A focus on mentoring, inclusive training and education, leave, experience surveys and hiring practices are coming through as key outputs

Over the following weeks, we will update you on further insights and plans for upcoming Summits, so stay tuned!
If you would like more information or would like to share your thoughts on the Summit, please contact us on 1300 664 587 or CEO@Professions.org.au