As we look into further strengthening our thought leadership in 2021, the Australian Council of Professions have engaged a key resource to help us deliver additional services to our members.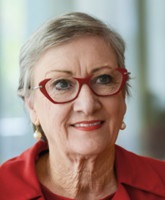 We would like to introduce you to Ruth Ferraro PhD Fellow ARPI GAICD who has joined our Office of the CEO to head the Professionalism Portfolio.

Ruth's interest in the phenomenon of professions and professionalism was sparked in the early 2000s where she undertook a "Can we Educate for Professionalism?" project for the emergent financial planning profession. Ruth then undertook PhD research at the Work-based Learning Institute, Middlesex University UK entitled "From the intransitive to the transitive – emerging the Australian tax profession as a profession in its own right" which she intends to utilise in a number of our projects. "With over 25 years in executive roles in education with 20 of those years spent in membership bodies for a wide range of professions: medical sub-specialisation, law, accounting, financial planning, etc. I have gained a deep insight into the life-cycle and maturity of professions." says Ruth.

One of Ruth's first activities will be to lead the Emerging Professions initiative, which we have created following conversations with existing and prospective members. This input has highlighted that new professions and professionals moving into new areas of practice have created interesting challenges. Ruth's other activities will be to create and action high-level communications in the domain of professionalism as well as assisting ACoP in its thought leadership and engagement with high-level individuals and organisations.

"I am delighted that Ruth has joined us at a time where the purpose, value and maturity of professions has very much moved into the public eye. The emergence of the concepts of 'alternative facts' and 'fake news' as well as the healthcare and climate challenges in the last 12 months make the public's clear understanding of the role and value of professionals, their ethics and professionalism in difficult times all the more important" said President Klaus Veil.

Read more about Ruth's background at www.linkedin.com/in/dr-ruth-ferraro-gaicd-fellow-arpi-1074408/

Welcome Ruth!